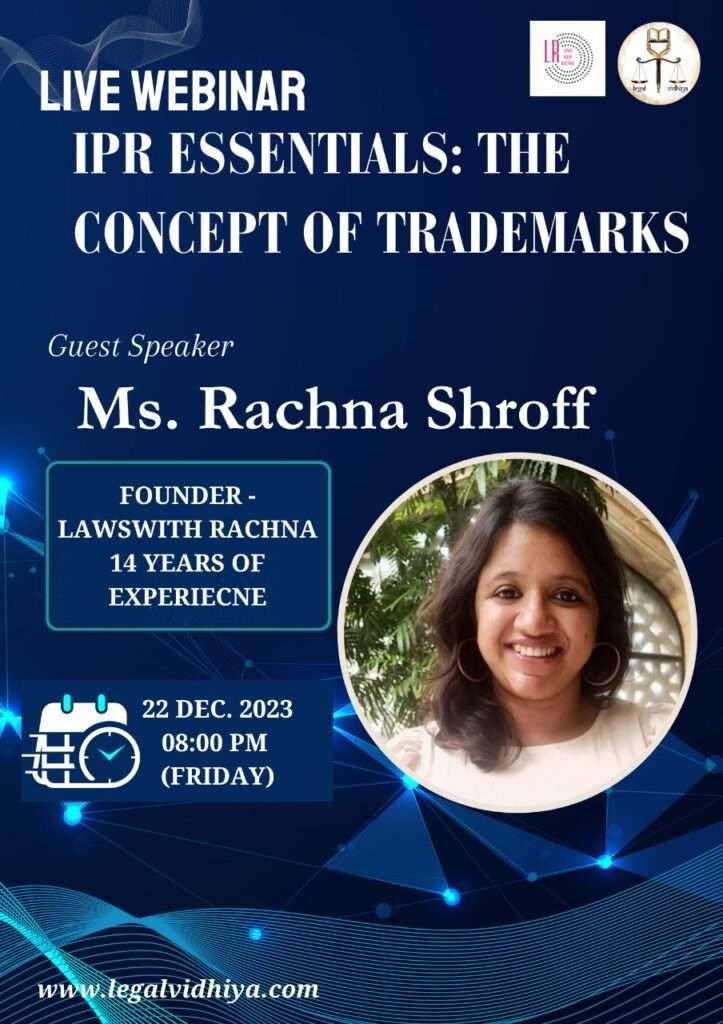 ABOUT LEGAL VIDHIYA
Legal Vidhiya was founded in 2021 with the aim of creating a platform for individuals interested in the field of law. The organization provides a comprehensive portal where people can enhance their knowledge and grow their expertise in the field of law. Legal Vidhiya offers various opportunities such as internship programs, a platform to publish articles, and hosts interactive webinars and sessions for its members.
Through Legal Vidhiya, individuals can gain access to valuable resources, network with like-minded individuals, and ultimately, develop their skills for success in the legal profession.
ABOUT THE WEBINAR
Join us for an enlightening journey into the world of intellectual property rights (IPR) with a focus on one of its most crucial facets – trademarks. We are thrilled to extend a warm invitation to our upcoming webinar, "IPR Essentials: The Concept of Trademarks." In an age of innovation and global commerce, safeguarding your brand identity is paramount, and understanding trademarks is key to achieving that goal. Whether you're an entrepreneur looking to protect your business's unique identity or a curious individual interested in the intricacies of intellectual property, this webinar promises to provide valuable insights and practical knowledge that can have a lasting impact on your endeavors. So, mark your calendars and get ready to delve into the world of trademarks with our expert speakers.
ABOUT THE SPEAKER
Miss. Rachna Shroff,an Advocate with 14 years of experience into Gaming and Technology Laws, along with other diverse fields as that of NBFC, Iron and Steel & top law firms like Naik& Naik Co. She has also interned with Titan & Co during her MBA days, turning out to be a Gold Medalist.
She holds an unconditional offer letter from the top University of UK for her LLM for this year but she has decided to be in her homeland, India & continue with her passion to teach & add value. This led the way for her to become a Founder – LawswithRachna, her online law school with flagship courses like Gaming Laws, Mentorship program and others.
She believes that it's time, students are exposed to the practical & real side of this field of law To contribute to this, she is regularly conducting free webinars on various current topics to add value to this community.
She finds her personality and owes her success to the Art of Living, to which she is associated for 17 years now. She is also teacher of Happiness Program – Art of Living, based on mind management and meditation and have taught some 100's of youths the same helping them in their personal and professional lives towards becoming successful.
DETAILS OF THE WEBINAR
Date: 22 December 2023
Time: 08:00 PM Onwards
Platform: Google Meet
Registration Form: https://forms.gle/nwcAGhkERZ1geWvw7
WhatsApp Group Link: https://chat.whatsapp.com/J54sC0utejF540NUs37RYy
CERTIFICATE
Every student can join the session for free.
E-Certificate will be provided to every Participant upon payment of Rs. 49
Payment needs to be made via (Google Pay/ Phone pay/ Paytm) on 7584998222 or shubhamsingh97013@dbs
CONTACT INFORMATION
In case of any queries, please write to info@legalvidhiya.com