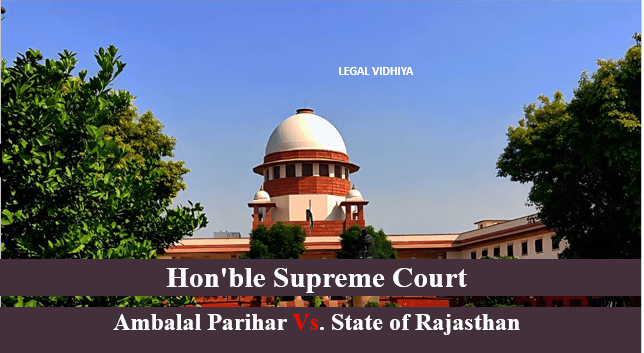 | | |
| --- | --- |
| CITATION | 2023 INSC 946 |
| DATE OF JUDGMENT | 16 OCTOBER, 2023 |
| COURT | SUPREME COURT OF INDIA |
| APPELLANT | AMBALA PARIHAR |
| RESPONDENT | STATE OF RAJASTHAN & ORS. |
| BENCH | ABHAY S. OKAPANKAJ MITHAL |
INTRODUCTION
This is a case of gross abuse of power of law by second to fourth respondent. There is a rule of roster in court. Roster is simply defined as systematic allocation of different task to members to achieve higher efficiency. As Chief justice of high court and the Supreme Court manages administrative side, he have the duty to allocate different matters to judges. So, no judge can take matter in their own hand unless allocated by chief justice. The respondent tried to abuse this process of court by the method of forum hunting and misusing their right.
.FACTS OF THE CASE
1.)Six first information reports (FIR) were filed against second to fourth respondents and there were other two first information reports filed by two other first informants in response of which two criminal miscellaneous reports were filed by second to fourth respondents for quashing the first information reports filed at the instance of the other first informants.
2.) Order were passed on two petition under section 482 of code of criminal procedure, 1973 (Cr.P.C) filed by the second to fourth respondents. The petitions came up before a learned Single Judge of the Rajasthan High Court in April, 2023 in which no interim relief was granted.
3.) in response to which second to fourth respondents took a very extra ordinary step on 5th may, 2023 by filing a civil writ petition in which prayer was made to issue writ of mandamus for clubbing the eight first information reports and consolidating them into one.
4.) After which an impugned order was passed in the civil writ petition on 8th may, 2023. The learned single judge of high court directed that no coercive action shall be taken against the second to fourth respondents in connection with all eight First Information Reports.
5.) Now, The appellant has made a very serious allegation by relying upon the then prevailing roster notified by the Chief Justice of the Rajasthan High Court. The allegation is that the method of filling a civil writ was used to avoid the roster judge who had not granted the interim relief.
ISSUES RAISED
Was the civil writ filed by second to fourth respondent justifiable?
Will second to fourth respondents held liable for practising their right by filing civil writ petition even if they had wrong intentions?
JUDGEMENT
The court held that the action of filling SB Civil writ petition no. 6277 of 2023 by the second to fourth respondent was nothing but a gross abuse of power of law and it was the classic case of forum hunting.
Accordingly, the civil writ was petition was dismissed and therefore the impugned order did not survive.
Hence, the court directed second to fourth respondent to pay costs quantified at Rs. 50,000/- ( rupees fifty thousand) to Rajasthan state legal services authority within a period of one month.
CONCLUSION
In the case of Ambala Parihar v. state of Rajasthan is a fit case where second to fourth respondents must be saddled with the costs as steps taken by second to fourth respondents abused the process of roster but this kind of things should not be permitted because then there will be no authority of chief justice to appoint roster and it will be meaningless. Therefore, second to fourth respondents must bear the cost directed to them by the court for challenging the power of law.
REFERENCES
This Article is written by Nivedita Narwal student of institute of law K.U.K; Intern at Legal Vidhiya.